Once upon a time, I was an avid fan of the God of War franchise. I followed the lore, wrote theories online, made reviews, and even fanfics of the games.
Where I'm at now in life, I haven't replayed the "old" games in many years, and I don't even dare to go back to replay God of War 2018. Frankly, I'm scared to go back to the franchise with the launch of Ragnarök.
This is the story about depression, suicide, and my love for God of War.
In 2016, I was sitting up late at night. Sony was finally hosting their long-awaited E3-conference, and oh-wow-it-delivered. We had reveals of Days Gone, Death Stranding, Spider-Man, Resident Evil VII, as well as a bunch of updates on a myriad of games. My biggest wish, however, was for a new entry in the God of War franchise to be revealed.
We had a few months prior gotten a leak, of a bearded Kratos with an ax, seemingly in the Norse mythology. This was it. Sony had an orchestral band on stage to present a new title, and as soon as the music began I shouted "This fucking sounds like God of War!!!!"
When the demo was about to start, they split the screen apart into different segments. Most people didn't realize it was God of War until the Kratos reveal, but for me; The second I saw Cory Barlog demoing the game, I was already in tears.
This was it, I had played the trilogy up to 25 times at this point, even having begun speedrunning them. I was finally getting the long-awaited sequel, and WOW did it look great. What followed was me reading theories, and watching reactions for what felt like 1 year.
During the same time of my life, I had a lot of problems with my relationship with my mother. She was diagnosed as bipolar when I was a very young child, and while she always was amazing toward me it came to a point in which she started to have a very bad influence on my life.
From a long story short, she had such a small amount of energy during my childhood because of depression and medicine, which led to her having a rough time taking care of me as a child / young teen. Eventually, I moved to live almost entirely with my father because of getting issues on my own.
And around 2016, I sadly got into a very big fight with mom. We had a pretty bad split, and a lot to fix in our relationship. My hope was that we would just become friends and be able to spend a lot of time together as grown-ups, instead of dwelling on the bad relationship we currently had and on the bad memories of the past instead of the good ones.
We had a lot of ups and downs between 2016-2018, and during the first half of 2018, my life was pure hell. I was graduating from University, I had gotten a new job, I was getting some licenses to do things for my workplace, etc. I was looking forward to two things; Summer, because things would get a lot better by then – the other thing was God of War which was set to launch in April of 2018.
During the same period of time, I had another stress on my shoulders. The relationship with my mother was very strained (still) and I had planned on trying to mend it once and for all by Fall when I knew I would have a better living situation.
This never happened.
April 2018 was set to be the best month ever. Things were slowing down somewhat, and I was finishing my biggest tasks. Aside from that God of War was finally set to be released on April 20th, and Avengers Infinity War a few days after that.
My friends and I decided to meet on April 1st to begin our rewatch of MCU for Infinity War. We were having a blast, but while we were watching Captain America The First Avenger, someone dinged at the doorbell, which was strange as we didn't expect anyone nor had ordered anything.
It was the police.
My first thought was, this is a prank set up by one of my friends as it's April 1st. The other thought was that we had a noise complaint from a neighbor. (Which was weird as we frankly weren't loud at all)
Sadly it was neither. The police told me that they had found my mother, dead. In all honesty, everything from this point is pretty muddy, I kinda blacked out from the shock. But TL;DR, my mom had taken her life by jumping in front of a train.
I went to my friends and cried my eyes out. Having to talk to my uncle, grandpa, and meet my family afterward… It's the hardest thing I've ever had to do.
Frankly, both God of War and Infinity War were basically forgotten about, I was just so absolutely broken. I didn't get to say goodbye, I didn't have a message, and I hadn't seen my mom for multiple weeks at this point. The last text I had from her was a negative one.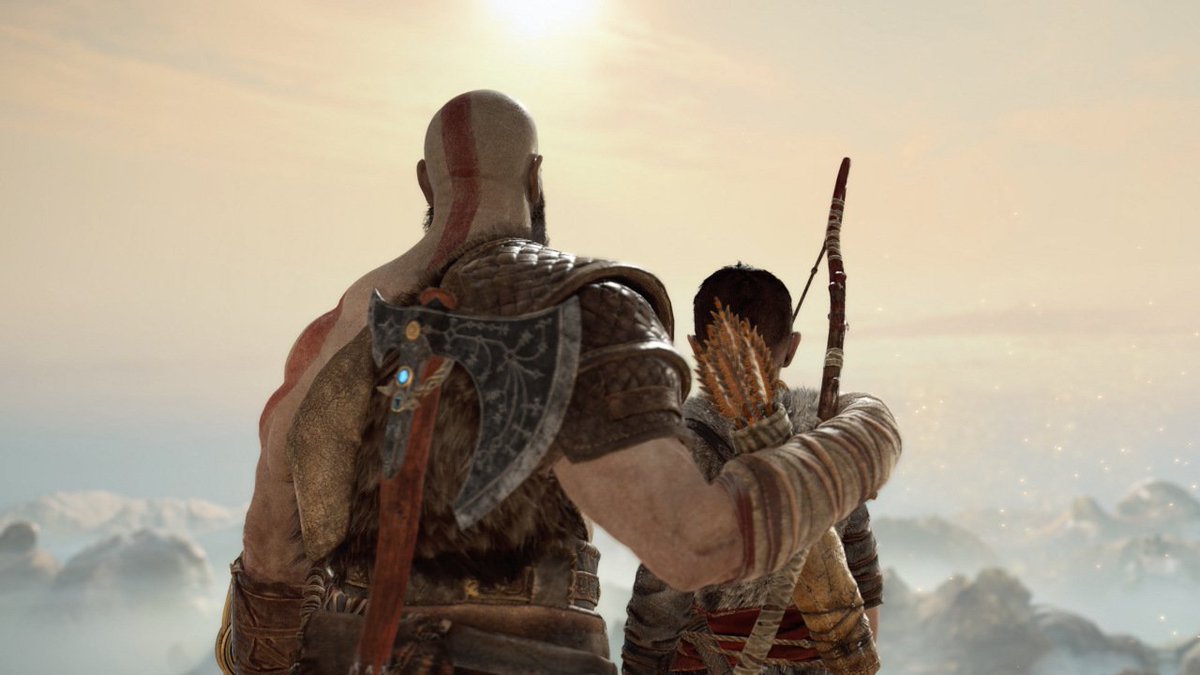 This was obviously a very hard part of my life, and it has affected me a lot and changed who I was (and am.) But the release of God of War came, and I was obviously still excited for it. The game had gotten amazing reviews, and the hype online was above and beyond what I thought was possible for the IP a few years back.
I had gone media blackout on the game as well and didn't know much about it. I started the game, excited to escape from reality. What I faced, was the hardest experience of my entire life.
The game opens up with Atreus's mother having passed away, and you quickly get the quest to spread her ashes on top of a mountain. Simply from the opening minutes of the game, I was already bawling my eyes out. Uncontrollably crying.
It was such a tough journey and an exhausting one. My friends finished the games one after another, while I was going at it with snail-pace.
By the end of the game, I was so exhausted. I had been crying so much. The game was amazing, but it was so hard to get through. The entire journey being about the mother passing away, it ended up feeling like my personal journey of saying farewell to my mother.
I ended up going back to get the platinum a few months later, but haven't dared to touch it since then. God of War Ragnarök is coming up, and I can't wait for it. But I'm so afraid to go back to that world, to those characters, to that period of my life.
I'm so afraid of opening up old wounds.
I'm so afraid of facing the sorrow and depression I went to.
God of War ended up becoming one of the most beautiful games, of the highest quality I had ever played. But it also ended up becoming a metaphor for the rough period I was going through.
The franchise and characters mean the world to me, and I'm excited to see what they're up to. Thank you to Santa Monica Studios, Cory Barlog, and everyone involved for creating this amazing game, and for helping me process my mother's death. I hope I'll be brave enough to go back to the franchise with the release of Ragnarök.
I love you mom, and I miss you. <3
Do you feel depressed or know anyone close to you that isn't doing well?
International Suicide and Emergency Hotlines: https://www.opencounseling.com/suicide-hotlines
Help with Suicidal thoughts: https://www.helpguide.org/articles/suicide-prevention/are-you-feeling-suicidal.htm
Don't be afraid to seek help, go to therapy, or even reach out to family and friends. If you're in need of talking, I'm here for you. Take care.